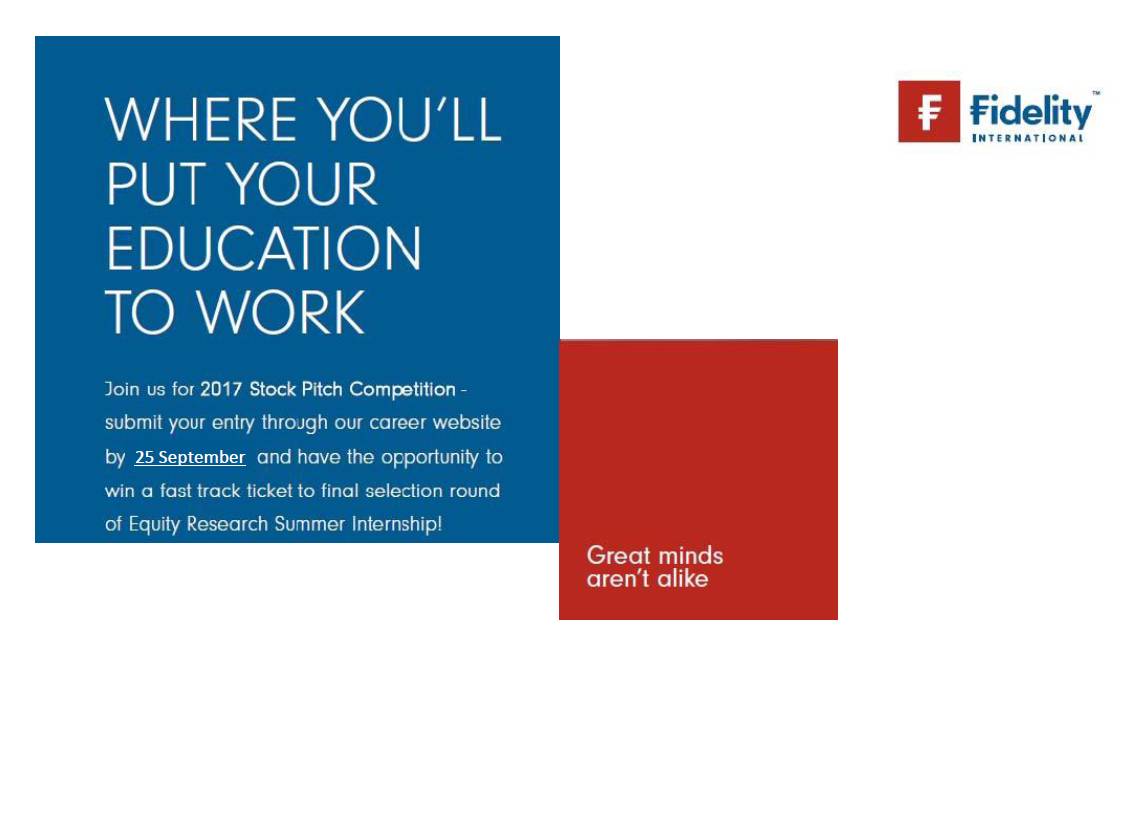 Stock Pitch Competition – Fudan University

What is stock picking about?



How do I participate in the competition?


Follow the Stock Pitching Guidelines below and submit your entry as a word document (.doc) template below (maximum of 1,000 words) by 11:59pm –local time Sunday, 24 September 2017.




Our Investment Professionals will shortlist around 5 finalists from the entries and they will be notified by Tuesday, 3 October 2017. The finalists will have a week to prepare for their presentation.
Entries

Closed

11:59pm

Sun,

24

Sep

2017

You will have until 24

September to prepare a

maximum of 1,000 word

recommendation on a stock.

2nd

round

By Tue, 3

Oct

2017

Around 5 students will be

selected for final round.

Final

Presenta-

tion

6:30pm

Wed, 11 Oct 2017

Each finalist will have

5-10 minutes to present

your recommendation to a

panel of Fidelity investment professionals. A winner will

be selected.

(Format: 5-10 minutes

presentation + 5 minutes

Q&A)
Why participate?


Experience the intensity, depth, and breadth of questions posted by top investment professionals and network with investment professionals from Fidelity.

If I don't participate in the game, can I join the Fidelity Stock Pitch Presentation as a spectator on 11 October?


You are invited to join us as an audience even if you don't participate in the stock pitching competition. There will also be a session on company introduction and Equity Research overview. Please register for the eventpagein our career website.
We are currently recruiting for China Equity Research Interns. For details about our program and how to apply, please visit our website at www.fidelityrecruitment.com/asia-pacific

Submission criteria


The company must be a listed equity (i.e. no pre-IPOs, no funds, no derivatives, no bonds, no commodities etc) with market capitalization over US$200m.
Issues to be addressed in the stock pitch

复旦大学管理学院职业发展中心是中国大陆大学商学院中第一家专职的MBA职业发展中心,现服务于管理学院所有在读学生,包括本科生、研究生和MBA学生等。通过提供高质量的服务和资源,中心旨在使学生明确自己的职业发展方向,提高职业竞争力。同时,中心也致力于
为企业提供多样化的招聘服务并积极开拓校企合作项目,通过建立各种渠道来加强学生与企业间的交流与沟通。